Super Hydrophobic solution Kit for Solar Panels
Water Fed Brush for cleaning of solar panels
Telescopic Poles
Microfiber Sleeve with Washer
Super Hydrophobic solution Kit for Solar Panels
Depositions of sand, dust, chemicals, metal particles, algae on Solar Panels mean disaster in terms of generation of power and maintenance.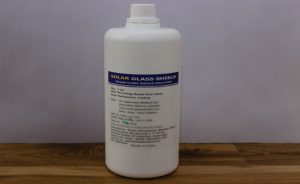 Solar Glass Shield solution helps to keep the solar panels clean and yield consistent generation of power.
Huge savings can be achieved in terms of cleaning and maintenance expenditure. Almost 70% water is saved while cleaning.
Super hydrophobic coating on your solar plant..
REDUCES average cleaning time up to 30% hence saves labour cost!
PUSHES your cleaning cycle from 1 week to as long as 8 weeks!
ENABLES Consistent generation through out
Generates OPTIMUM output!
It lowers your COST and Improves your ROI !!
it adds adds to your operational efficiency and enhances PROFITABILITY !
Water Fed Brush for cleaning of solar panels
Telescopic Poles
Microfiber Sleeve with Washer